Public Art Czar
By Terri Gordon
Published Mar 22nd, 2009 in Shore Magazine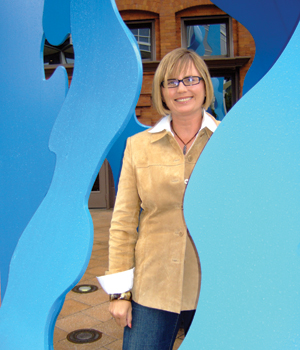 During her nearly fifteen years as curator at Krasl Art Center, in St. Joseph, Michigan, Susan Wilczak oversaw more than a hundred artist exhibitions and helped the organization add such works to its permanent collection as Dale Chihuly's Beacon Gold and Richard Hunt's And You, Seas.
Now flying solo, Wilczak has worked with the Midtown Detroit Loop Greenway Public Art Program, creating a master plan for public art through Greenway, a two-mile corridor surrounding the cultural district of the city. She represents Amsterdam artist Cyril Lixenberg and Minnesota artist Foster Willey Jr., and most recently, she has been hired by Harbor Shores, a Benton Harbor development.
After fifteen years at Krasl, why did you decide to strike out on your own? I carried out exhibits and grew the collection of the Krasl Art Center. I learned a lot through that. I saw a need for consulting—for people who needed guidance in initiating public art programming, and for artists who needed help going after the commissions. There is also a need for people who have collections and want to grow the collection, or they want to know how to maintain the collection, and so forth.
I felt I had achieved what I could [at Krasl], and I wanted to take what I had learned and carry it into other areas, or directions. It was the right time, and the technology was there. You couldn't have done this ten years ago, but now it's more global, in how you approach things, and in the resources available to you. There's a lot of potential out there for whatever you have the energy for.
Why do you think people are drawn to art? I think good works of art make you contemplate. It makes you think about what values you have as an individual. It [instigates conversation]. It's not just conversation with somebody else, but also conversation with your self. How you're moved by it. Whether or not you are moved by it. Whether or not you find it something that is aesthetically beautiful. Does it evoke an emotion. Strong art will do that. Sometimes it's expected, and sometimes it's not expected.
I think that's what attracted me so about public art. It goes out to the public where they can interact with the work in their own time, in their own space. Whether or not it's a sculpture, whether or not it's art in a hotel lobby, or in a library—anywhere it's not in a museum environment. It's not always the same. It's changing in your eyes. You might see different colors, or you might see different abstractions. It can take on a whole different meaning to you.
You're clearly passionate about public art. What is its overall value? Public art gives an identity to a community. It reflects what that community is about, the values they hold. It gives a place of gathering for social activity. In some cities, it becomes the icon, or the hallmark—almost the logo—of the city.
It helps attract people into a city or environment. It makes for a nicer place to live, where you can walk and interact. It becomes part of your matrix. And not just in cities. In hotels and libraries, I think it still holds true. People see something and they want to interact with it. You see it in airports. It creates an atmosphere, a certain energy. I think instead of walking through a sterile place, you'd rather see artwork. It's dynamic. It changes with the seasons, and even during the day, with changing light. It can be dynamic inside, too.
What would you do if you suddenly found yourself the country's Public Art Czar? I'd like to see more percentage-for-art programs, where in all new development a percentage goes to artworks for both exterior and interior spaces. It's something to strive for, and a lot of cities have adopted that. I would have a percentage for art so communities would be able to have some sort of a public art program, and not just having artwork itself, but having a program around the art, whether it's film or drama, or music—a cultural package, you could say—that would center around the public art.
So, what's on the horizon for you in the next year? During 2009, I plan to assist both Cyril Lixenberg and Foster Willey in gaining public and private art commissions. I also will be identifying and evaluating opportunities for 3D12, a collaboration of twelve professional artists, based in the Chicago area, who have designed an exhibit entitled Skins. I will be searching out venues to host the exhibit. I also plan to continue assisting public administrators, along with private individuals, in the acquisition of art work and with inventorying their collections.
These are all exciting projects for me, but what really will be exciting is I have been retained by Harbor Shores to create a Cultural Master Plan for the development. I will start on this February 1, 2009. A Cultural Master Plan will be a strong galvanizing force in bringing together the various local and regional cultural institutions.
Return to Profile